May 10, 2023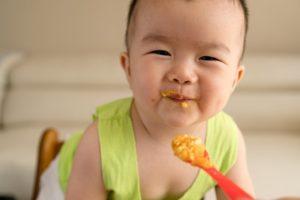 After months of feeding your infant with a bottle, the time has come to introduce other foods to their diet. You look forward to seeing the funny faces they make as they try new tastes, but to your surprise, your baby isn't taking to solid foods the way you thought. When they eat easily dissolved puff treats or foods that haven't been mashed enough, they gag. Why aren't they eating properly?
One possibility is that your baby has a tongue tie, or a thick piece of tissue that connects the tongue to the lower jaw. How can this tiny tissue, called a frenulum, cause so much trouble? Keep reading to learn more!
How Your Baby Uses Their Tongue in Early Feeding
Right after birth until the six-month mark, your baby's sole form of nutrition is to breast or bottle feed. When breast or bottle feeding, your baby utilizes their tongue by forming a tight seal on the nipple. Then, the tongue is supposed to move up and down, forward and backward, sucking milk or formula.
If they have a lip or tongue tie, they may not be able to achieve the right technique to suck milk from the nipple. However, modern bottles come with various levels at which milk or formula is let out, making it easier for infants to simply bite down on the nipple. As a result, those with a lip or tongue tie may go undiagnosed until solid foods are introduced.
How Your Baby Uses Their Tongue to Eat Solids
Obviously, milk or formula does not need to be chewed for digestion, but when solid foods come into the picture, more range of motion is needed. At first, your baby should start with mashed or pureed foods and then advanced to those that easily dissolve in their saliva. Although these early foods don't necessarily need teeth, they serve as good practice.
Food that needs to be chewed or crushed before swallowing must be shifted from side to side with the tongue. Unfortunately, a tied tongue can cause limited function for a baby still learning to eat solid food. As a result, the baby can gag or vomit or have indigestion from foods that have not been properly broken down before entering the stomach.
How Resolving a Tongue Tie Can Improve Eating Solid Foods
Fortunately, a tongue tie can be removed, and technology makes the procedure relatively pain free. Within minutes, a soft tissue laser can gently sever the excess tissue with as little bleeding as possible. After a tongue tie has been treated, your baby will instantly have more mobility and flexibility, but they may need to meet with an occupational therapist to break former eating habits and learn more effective ones.
If you suspect your little one is having difficulty with eating solid foods because of a tongue tie, take them to see a specialist or pediatric dentist with a soft tissue laser. They can help you identify a possible cause and provide treatment that will free your baby's tongue to enjoy all the tastes the world has to offer.
About the Author
In addition to being a board-certified pediatric dentist, Dr. Maggie Davis holds certification with the American Board of Laser Surgery, specifically in infant and pediatric lip and tongue ties. As a mother of three, she faced issues with feeding, leading her to learn more about this problem, and since then, she has released hundreds of lip and tongue ties with a soft tissue laser. If you would like to schedule an appointment at Florida Tongue Tie Institute, you may call the office in Palm Harbor at 727-786-7551 or visit our Contact Us page.
Comments Off

on Eating Solid Foods: How a Tongue Tie Can Interfere with This Transition
No Comments
No comments yet.
RSS feed for comments on this post.
Sorry, the comment form is closed at this time.