August 9, 2023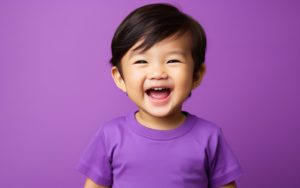 When an infant has trouble breast or bottle feeding, the culprit is often a lip or tongue tie. These conditions prevent a child from moving their lips or tongue because a thick band of tissue restricts the range of motion, but fortunately, they are often diagnosed and treated early. However, some do manage to be missed, meaning many toddlers have to deal with these problems. As you can imagine, the symptoms for children this age are quite different compared to an infant, and knowing the signs can help a parent seek out treatment as soon as it's needed.
Difficulty Chewing/Digestion Issues
While lip and tongue ties make breast/bottle feeding almost impossible, they can hamper a child who eats solid food as well. In addition to making the transition from a liquid to a solid diet take much longer, toddlers with ties may experience oral pain when eating certain items that require a lot of chewing (like lean meats and fibrous fruits and vegetables). Also, because they can't chew properly, the food isn't fully broken down before it enters the stomach. This can result in digestion issues and even slow weight gain because the body isn't able to absorb enough nutrients.
Spaces Between Teeth
One of the telltale signs of a lip tie is a large space developing between the two front primary (baby) teeth. That's because the tie itself prevents the teeth and surrounding tissue from growing as it should. While gaps in the upper teeth point toward a lip tie, a lot of crowding in the lower teeth may be a sign of a tongue tie.
Speaking Difficulties
Does your child struggle with certain letters or syllables more than their peers? While every child learns to speak at a different pace, persistent and specific problems can stem from a lip or tongue tie. Simply put, the child's mouth is unable to move in a way that allows them to speak clearly. They may also have a noticeable impediment like a lisp.
What You Can Do
Thankfully, getting a lip or tongue tie diagnosed and treated is relatively easy these days. All you have to do is take your child to a specially-trained pediatric dentist. They'll be able to determine if there is a tie and then perform a quick and gentle laser frenectomy to remove it. This approach dramatically reduces any soreness, bleeding, and recovery time needed compared to the old method that involves cutting the excess tissue with surgical scissors.
Do any of the signs above sound familiar? If so, the help you need is just a phone call away. Following a frenectomy, everything touched on above should resolve relatively quickly with minimal intervention, and then you and your child won't ever have to worry about a tie again.
About the AuthorA board-certified pediatric dentist, Dr. Maggie Davis is also certified by the American Board of Laser Surgery for infant and pediatric lip and tongue tie treatment. A busy mother of three, she dealt with persistent feeding problems, leading her to learn more about these issues so she could help her children as well as other parents. Over the years, she has fixed hundreds of ties with a soft tissue laser. If you would like to schedule an appointment at the Florida Tongue Tie Institute, you can call our Palm Harbor office at 727-786-7551 or click here to book online.
Comments Off

on Can Toddlers Have a Lip or Tongue Tie?
No Comments
No comments yet.
RSS feed for comments on this post.
Sorry, the comment form is closed at this time.